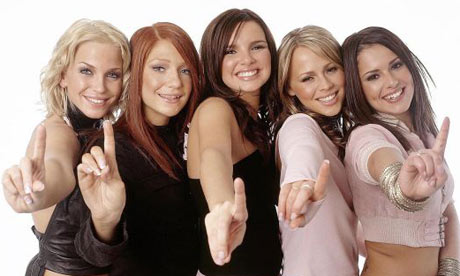 Girls Aloud back in 2003
Girls Aloud formed as a girl band in 2002 through a TV show -
Popstars The Rivals.
They are one of the most successful girl bands world wide and have many best selling albums. They had 20 songs that reached the top ten singles n the UK which also included 4 to be at number one!
The band consists of -
Cheryl Cole
/Tweedy, who was first to leave the band and go into making her own singles and then got in to been an X-factor judge and married football star Ashley Cole,
Nadine Coyle
,
Sarah Harding
, who went into a bit of acting one example of this is St Trinians movie,
Nicola Roberts
, who went into making a few singles, and
Kimberley Walsh
who also made some singles but did not really succeed in been a single artist.
The 5 girls were also nominated as the 'fittest' girl band in the UK, as you can see in the picture to the left they will have male gaze (especially for this revealing picture) and girls inspire to be like them.
The band went on a 'break' in 2009 and have all gone in different directions in the media world but will be having a reunion in 2012.
Jump
The single was released in 1983 by the original artist that wrote it -
the Pointer Sisters.
Girls Aloud in November 2003 then covered this and made it to the top ten singles in the UK! it was also made by them for the movie
Love Actually
the famous romantic comedy
.

This is the album above, 'Jump' is the album name.
This is a quote i found on wikipedia to prove that there are negative views on the music video -
"Jump" received generally negative reviews from contemporary music critics. It was said that "the girls sound bored singing it and the listener is certainly fed up by the time the song finishes."
http://en.wikipedia.org/wiki/Jump_(for_My_Love)
0:15
Your eyes, tell me how you want me

0:20
I can feel it in your heart beat

0:24
I know you like what you see

0:29
Hold me, I'll give you all that you need

0:35
Wrap your love around me

0:38
I can feel you getting hotter, oh baby

0:44
I'll take you down, I'll take you down

0:49
Where no one's ever gone before
And if you want more, if you want more
Jump, if you want to taste my kisses in the night then,
I know my heart can make you happy
You know these arms can feel you up
Jump, if you want to taste my kisses in the night then,
1:30
You told me, I'm the only woman for you

1:36
Nobody does you like I do

1:39
Then make a move before you try
And go much farther, oh baby

1:44
You are the one, you, you are the one

1:49
And heaven waits here at my door
If you want more, more, more

1:58
Jump, if you want to taste my kisses in the night then,
I know my heart can make you happy
You know these arms can feel you up

2:20
Jump, if you want to taste my kisses in the night then,
When you are next to me,

2:33

(Oooo)
Oh, I come alive (yeah)

2:39
Your love hurts inside (Oooo)

2:47
Oh, it feels so right (Yeah)

2:52
Come to me if you want me tonight (Jump)

3:01
I know my heart can make you happy
You know these arms can feel you up
Jump, if you want to taste my kisses in the night then,
Instrumental

0:22

Finishes

3:39